Blush Dream Body Wash
Moisturise & Nourish
Regular price
Sale price
$16.99 NZD
Unit price
per
Sale
Sold out
free shipping over $100.00
Get ready to indulge in dreamy moments with Blush Dream, a captivating creamy vanilla scent that will leave you feeling refreshed and mesmerized! This daily multi-vitamin-rich cleanser will cleanse, nourish & soften your skin, while making it feel moisturised. This creamy formula is naturally rich in vitamins A, C, and E and omegas 6 and 9 are the perfect addition to your daily self-care routine.
How It Works:
Our Blush Dream Body Wash is infused with key ingredients Niacinamide & Shea Butter to cleanse, moisturise & hydrate the skin leaving it feeling soft, smooth, and nourished. Why settle for an ordinary body wash when you can indulge in this creamy, foaming delight?
Perfect For:
Suitable for various skin types

Anyone looking for a pampering shower experience
Benefits:
Moisturise & hydrates

Gentle cleansing

Nourish & soothes skin

Promote healthier, more radiant skin

Daily multi-vitamin cleanser
Made Without:
Parabens, SLS, SLES & silicones
Key Ingredients:
Niacinimide - Provides moisturization & hydration, soothes & calms irritated skin.  Supports a healthy & radiant complexion. Improves overall skin appearance.

Shea Butter - Contains Vitamin A & E which enhances long-lasting hydration. Restores moisture balance.

Grapefruit seed extract - Natural antioxidant properties, contain antibacterial properties which promote a healthier skin environment.  Supports overall skin cleanliness.
The Experience:
Your skin will feel: Soft, Smooth & Hydrated

Your skin will look: Radiant & Refreshed

The Scent: Creamy Vanilla with a floral

The Texture: Creamy
The Fragrance:
Inspired by a blissful escape of a rose petal bath by candlelight, accompanied by a cascade of pink bubbles. With soft, warm & sensual notes of lychee, passionfruit, rose, vanilla, and cashmere, it offers the ultimate relaxation and luxury, immersing you in a world of sheer delight.
Fragrance Family: Floral Fruity

Emerging: Lychee, Passionfruit

Developing: Rose & Caramel

Lingering: Vanilla & Cashmere
Pair With:
Tropical Crush Body Scrub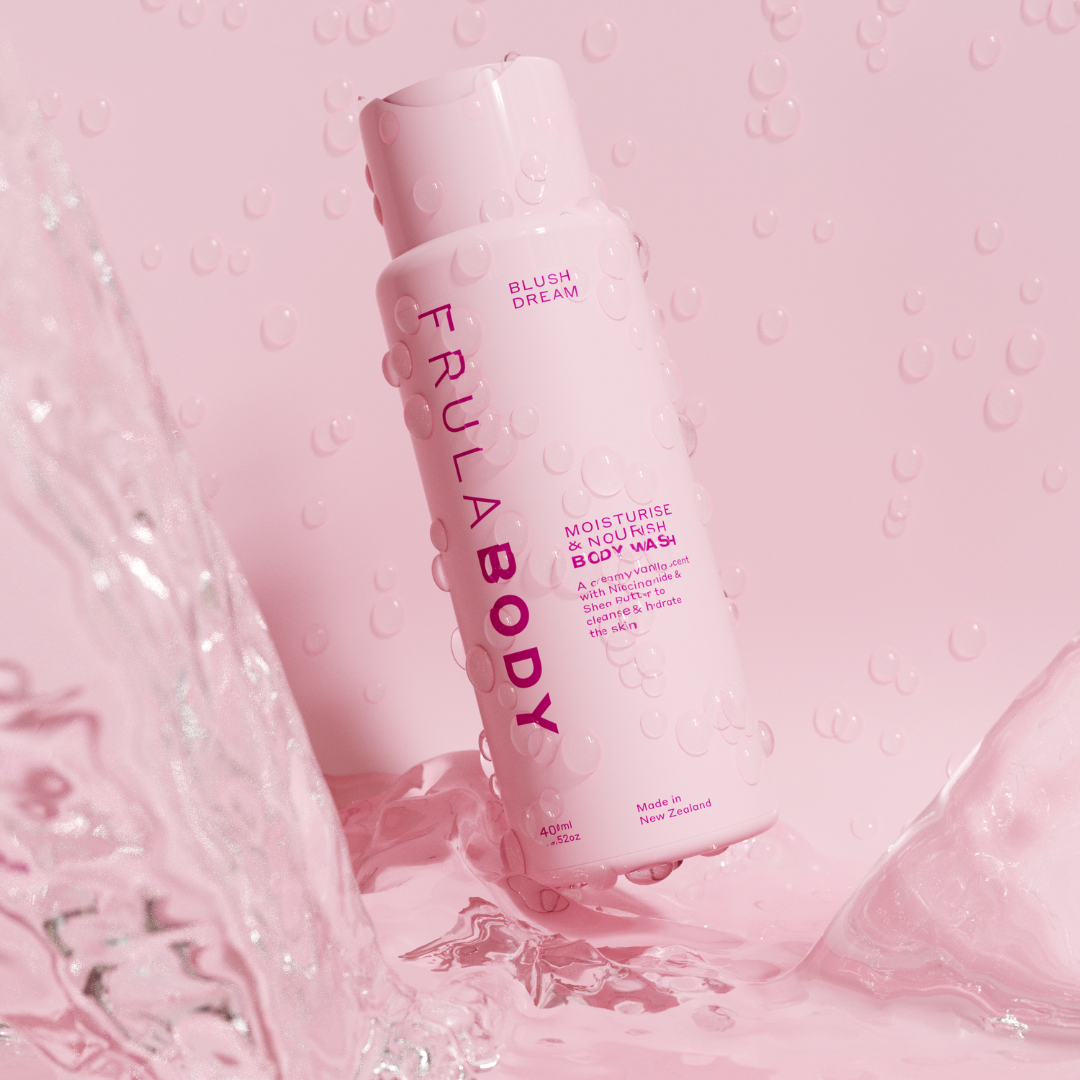 YOU WILL LOVE IT
Vegan
Friendly
For All Skin
Types & Tones
Cruelty
Free
SLS,SLES
& Paraben Free
Made in New
Zealand
ABOUT THE PRODUCT

Blush Dream Body Wash is a luxurious and indulgent bathing product that offers a nourishing and pampering experience for your skin. This delightful fragrance immerses you in a world of sheer delight and relaxation.

The Body Wash belongs to the Floral Fruity fragrance family, combining floral and fruity elements to create a harmonious and enchanting aroma. It contains gentle cleansing agents that effectively remove dirt and impurities from the skin without stripping away its natural moisture. Additionally, nourishing ingredients like niacinamide and shea butter work together to soften, moisturise, and hydrate your skin, leaving it feeling silky smooth and supple.

Blush Dream Body Wash offers more than just cleansing and hydration. It provides a luxurious shower or bathing experience, transforming your routine into a moment of relaxation and indulgence. The enticing scent and creamy texture create a pampering atmosphere, allowing you to unwind and rejuvenate.

The Body Wash also offers skincare benefits. Niacinamide, a form of vitamin B3, helps improve skin elasticity, reduce the appearance of fine lines and wrinkles, and brighten skin tone. Shea butter, known for its moisturizing properties, nourishes and protects the skin with essential vitamins and fatty acids. Together, these ingredients provide a nourishing and revitalizing effect, enhancing the overall health and appearance of your skin.

Blush Dream Body Wash provides a sensory experience that envelops your senses. The captivating fragrance, creamy lather, and nourishing formula work together to create a delightful bathing ritual. It turns your everyday shower into a blissful and indulgent experience, allowing you to pamper yourself and enjoy a moment of self-care.

Elevate your bathing routine with the exquisite Blush Dream Body Wash. Its luxurious scent, gentle cleansing, and hydrating properties make it the perfect addition to your self-care regimen. Immerse yourself in the captivating fragrance and let the nourishing formula enhance your skin, leaving you feeling refreshed, relaxed, and enveloped in a world of sheer delight.
Our bodycare products are:


Sephora Clean Formulated
Includes facial-grade skincare ingredients
Enhances the power of nature for transformative results
Does not contain any nasties
Naturally derived
Fruit & Plant formulated
PETA certified
Vegan Friendly & Cruelty free
SLS, SLES, silicone & paraben free
INGREDIENTS

Key Ingredients:
Niacinimide
Improves skin tone, reduces inflammation, minimizes pores, balances oil production, and enhances the skin barrier.
Shea Butter
Contains Vitamin A & E which promote strong antioxidant activity.
All Ingredients:
Water, Lauryl Glucoside, Sodium Coco-Sulfate (derived from Coconut Oil), Niacinamide (Vitamin B3), Butyrospermum Parkii (Shea) Butter, Aloe Barbadensis (Aloe) Leaf Extract, Citrus Grandis (Grapefruit) Seed Extract, Coco-Glucoside, Benzyl Alcohol, Glycol Distearate, Citric Acid, Glycerin, Dehydroacetic Acid, Parfum, Alpha-Isomethyl Ionone, Linalool.
HOW TO USE

Simply wet your skin, apply an appropriate amount of Body Wash, lather it onto your skin, and rinse thoroughly with warm water. Simply wet your skin, apply an appropriate amount of Body Wash, lather it onto your skin, and rinse thoroughly with warm water.
THE EXPERIENCE

Your skin will feel: Soft, Smooth & Hydrated
Your skin will look: Radiant & Refreshed
The Scent: Creamy Vanilla with a floral
The Texture: Creamy


FAQs

Why should I use the Blush Dream Body Wash
Deep Hydration: The presence of Shea Butter provides deep hydration, nourishing dry and damaged skin. It helps restore moisture, leaving your skin feeling soft, smooth and rejuvenated.

Gentle Cleansing: The creamy texture ensures gentle yet effective cleansing. It removes dirt, impurities, and excess oil without stripping away the skin's natural oils, maintaining its moisture barrier and protecting against dryness.

Improved Skin Appearance: The inclusion of niacinamide in the formula works wonders for your skin's appearance. Niacinamide helps to reduce redness, soothe inflammation, and even out your skin tone, promoting a more balanced and radiant complexion.

Luxurious Shower Experience: Indulge your senses with the vanilla scent of our body wash. The delightful aroma and rich lather create a luxurious shower experience that transports you to a blissful escape of a rose petal bath by candlelight, accompanied by a cascade of pink bubbles.

Experience the benefits of our Blush Dream Body Wash, including deep hydration, gentle cleansing, improved skin appearance, a luxurious shower experience, and the convenience of daily use. Pamper yourself and treat your skin to the nourishment it deserves with our indulgent body wash.

What makes your body care products different?
We use facial-grade skincare ingredients in all our products including our body care range. We lovingly formulate our products according to the Sephora Clean Program and make our products affordable and accessible for all

When Should I use the Blush Dream Body Wash?
Use this morning or night for a luxurious at-home self-care experience. It's the perfect way to pamper yourself while taking care of your skin. So why settle for an ordinary Body Wash when you can indulge in this creamy, foaming delight?

Where are your products made?
All our products are lovingly made in New Zealand. We are very proud to be part of the New Zealand Fernmark program which is a formal government recognition of our product's connection to New Zealand and clearly communicates our country of origin to our customers around the world.

Where can I purchase this product?
You can purchase all our products right here on our website.
NEW ZEALAND
All our products are stocked in your local Countdown, New World & Pak n Save
AUSTRALIA
All our products are exclusively stocked in your local Woolworths store

Does the product contain fragrance?
Yes, it contains a delightful tropical fruit scent. Our formulations contain less than 0.6% fragrance.

Can I recycle it?
Yes absolutely, you can recycle our packaging

Is this vegan friendly & cruelty free?
Absolutely! We love our furry friends and will NEVER test our products on animals. Our products are also PETA certified

Love!!
I came upon this brand at my local supermarket and had to buy the blush dream scent. I feel like there aren't many delicious smelling body washes on the market that are affordable. I have used it for a week and have loved it! Will definitely be repurchasing.
Love
Just received a bundle of all the new body washes and must say this scent is by far my favourite! Smells absolutely Devine. I love how it doesn't leave your body feeling dry and almost sticky as is find some body washes do! 10/10 recommend x
Best body wash 😍😍
Not only is this product affordable, has the prettiest packaging and smells like a dream, but most importantly leaves my skin glowing, hydrated and soft. The key ingredients being niacinamide and shea butter nourish the skin amazingly! I will always repurchase Frula Beauty body washes, I can't go without 💓
Such a good product
This smells amazing, and genuinely leaves my skin feeling so soft and moisturised. This is my absolute favourite shower product. Highly recommend
Like a tropical island getaway!
Obsessed with this body wash! Although I love all the washes from FRULABEAUTY, this one was my fav! I love the sweet and floral scent and how delicate it is on my sensitive skin! Definitely an essential to my body care routine 😍
THOUGHTFUL SKINCARE
Clean Beauty
No nasty ingredients

Our products are Vegan Friendly, SLS, SLES, Silicone & Paraben Free.

Made From Naturally
Derived Ingredients

All our products are free from harmful ingredients and comply with the Clean at Sephora program

Cruelty Free
We Love Animals

We make beauty products with love for all. We are PETA certified

Made In
New Zealand

Proudly made in NZ & Fernmark registered