Tropical Crush Body Wash
Moisturise & Nourish
Regular price
Sale price
$16.99 NZD
Unit price
per
Sale
Sold out
free shipping over $100.00
Prepare for a luxury escape with our Tropical Crush scent, an invigorating blend of tropical fruits and summer vibes. This daily multi-vitamin-rich cleanser will cleanse, nourish & soften your skin, while making it feel moisturised. This creamy formula is naturally rich in vitamins A, C, and E and omegas 6 and 9 is the perfect addition to your daily selfcare routine.
How It Works:

Our creamy Body Wash, is enriched with the goodness of Niacinamide and Shea Butter. This indulgent formula creates a rich lather that envelops your skin, leaving it feeling cleansed, soft, smooth, and nourished. With every use, you'll enjoy a luxurious shower experience that your skin will love.
Perfect For:
Suitable for various skin types

Anyone looking for a pampering shower experience
Benefits:
Moisturise & hydrates

Gentle cleansing

Nourish & soothes skin

Promote healthier, more radiant skin

Daily multi-vitamin cleanser
Made Without:
Parabens, SLS, SLES & silicones
Key Ingredients:
Niacinimide - Provides moisturization & hydration, soothes & calms irritated skin.  Supports a healthy & radiant complexion. Improves overall skin appearance.

Shea Butter - Contains Vitamin A & E which enhances long-lasting hydration. Restores moisture balance.

Grapefruit seed extract - Natural antioxidant properties, contain antibacterial properties which promote a healthier skin environment.  Supports overall skin cleanliness.
The Experience:
Your skin will feel: Soft, Smooth & Hydrated

Your skin will look: Radiant & Refreshed

The Scent: A tropical fruit bowl

The Texture: Creamy
The Fragrance:
Inspired by tropical landscapes where the sun kisses the vibrant fruits and fragrant flowers. This warm scent with notes of tropical fruit, jasmine, white orchid & vanilla will energize your spirit and transport you to a world of pure bliss and relaxation.
Fragrance Notes:

Fragrance Family: Fruity Floral

Emerging: Jasmine, Tropical Fruit

Developing: Cedarwood & White Orchid

Lingering: Vanilla
Pair With:
Tropical Crush Body Scrub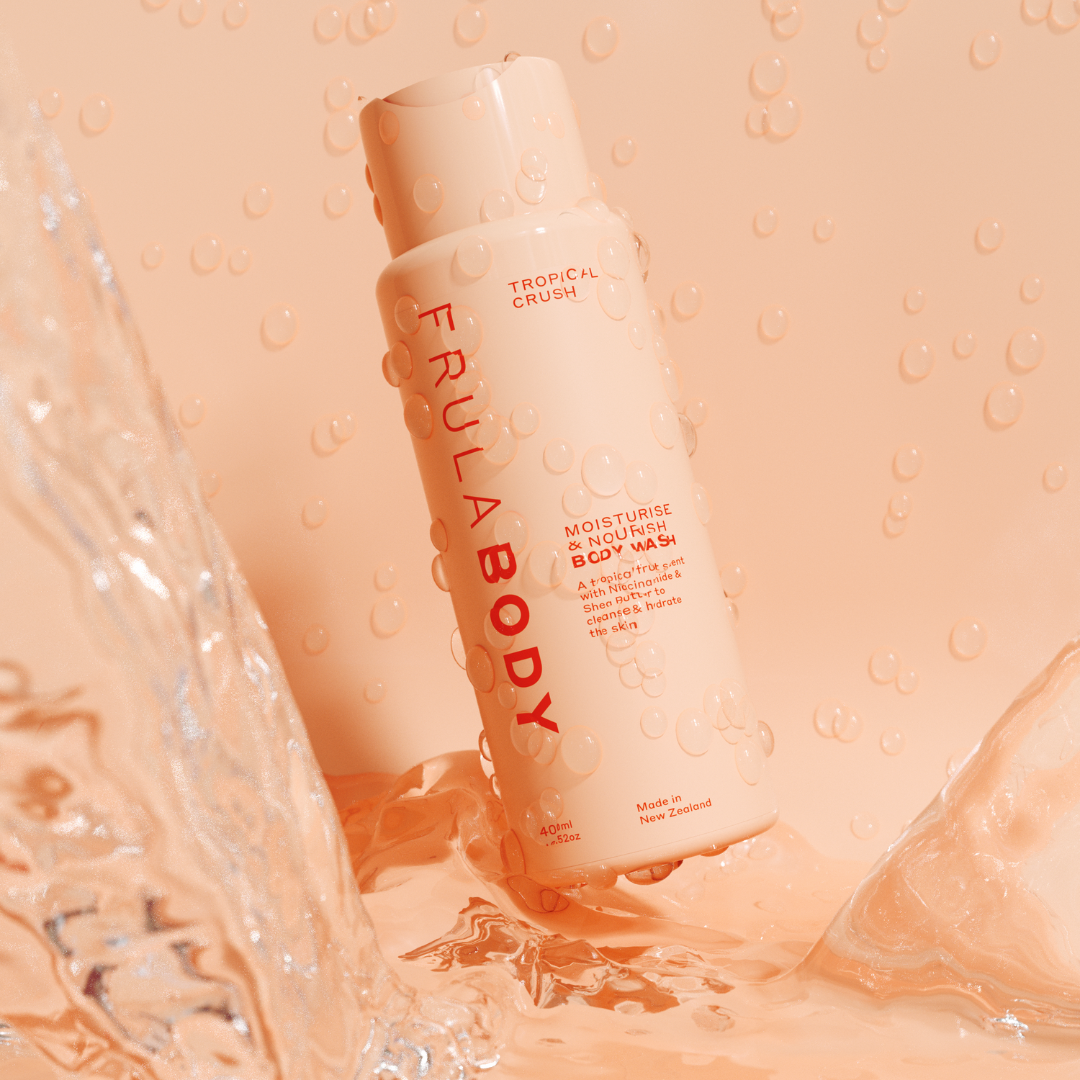 YOU WILL LOVE IT
Vegan
Friendly
For All Skin
Types & Tones
Cruelty
Free
SLS,SLES
& Paraben Free
Made in New
Zealand
ABOUT THE PRODUCT

Our Tropical Crush Body Wash provides a luxurious and effective cleansing experience. It is enriched with key ingredients such as Niacinamide and Shea Butter to deliver multiple benefits for your skin. Niacinamide, a form of vitamin B3, is known for its ability to improve the appearance of the skin. It helps reduce redness, soothe inflammation, and even out skin tone, resulting in a more balanced complexion. Shea butter, on the other hand, is a natural moisturiser that is rich in fatty acids and vitamins. It deeply nourishes and moisturises dry and damaged skin, promoting hydration and supporting skin repair.

One of the highlights of our Tropical Crush Body Wash is its delightful tropical fruit scent. This fragrance creates a refreshing and enjoyable shower experience, transporting you to a paradise island and adding a touch of luxury to your daily routine. The Body Wash has a creamy texture that creates a rich lather when applied to the skin. This luxurious lather not only gently cleanses the skin but also provides deep hydration and nourishment, leaving your skin feeling soft, smooth, and revitalized.

Our Tropical Crush Body Wash is designed for daily use and can be seamlessly incorporated into your regular shower routine. By using this Body Wash consistently, you can experience the benefits of its high-quality ingredients and enjoy a truly indulgent shower experience.

Pamper yourself and elevate your daily skincare routine with our Tropical Crush Body Wash. Experience the refreshing fragrance, creamy texture, and nourishing benefits of niacinamide and shea butter. Transform your shower into a tropical getaway and discover the joy of having healthy, hydrated, and beautiful-looking skin.

Our Body Care products are:


Sephora Clean Formulated
Includes facial-grade skincare ingredients
Enhances the power of nature for transformative results
Does not contain any nasties
Naturally derived
Fruit & Plant formulated
PETA certified
Vegan Friendly & Cruelty free
SLS, SLES, silicone & paraben free
INGREDIENTS

Key Ingredients:
Niacinimide
Improves skin tone, reduces inflammation, minimizes pores, balances oil production, and enhances the skin barrier.
Shea Butter
Contains Vitamin A & E which promote strong antioxidant activity.
All Ingredients:
Water, Lauryl Glucoside, Sodium Coco-Sulfate (Derived from Coconut Oil), Niacinamide (Vitamin B3), Butyrospermum Parkii (Shea) Butter, Aloe Barbadensis (Aloe) Leaf Extract, Citrus Grandis (Grapefruit) Seed Extract, Coco-Glucoside, Benzyl Alcohol, Glycol Distearate, Citric Acid, Glycerin, Dehydroacetic Acid, Parfum.
HOW TO USE

Simply wet your skin, apply an appropriate amount of Body Wash, lather it onto your skin, and rinse thoroughly with warm water. Simply wet your skin, apply an appropriate amount of Body Wash, lather it onto your skin, and rinse thoroughly with warm water. Whether you're starting or ending your day, this indulgent formula is the perfect way to pamper yourself and your skin


THE EXPERIENCE

Your skin will feel: Soft, Smooth & Hydrated
Your skin will look: Radiant & Refreshed
The Scent: A tropical fruit bowl
The Texture: Creamy


FAQs

Why should I use the Tropical Crush Body Wash?
Deep Hydration: Shea butter, a key ingredient in the Body Wash, provides deep hydration, nourishing dry and damaged skin, and promoting overall skin health.

Gentle Cleansing: The creamy texture of the Body Wash offers gentle yet effective cleansing, removing impurities without stripping away the skin's natural oils.

Improved Skin Appearance: The Body Wash is enriched with niacinamide, which helps reduce redness, soothe inflammation, and even out skin tone, resulting in a more balanced complexion.

Luxurious Shower Experience: Indulge in the tropical fruit scent and creamy texture of the Body Wash, creating a pampering and enjoyable shower experience that transports you to a paradise island.

By using our Tropical Crush Body Wash, you can expect improved skin appearance, deep hydration, gentle cleansing, a luxurious shower experience, and the convenience of a product suitable for daily use. Treat your skin to the nourishing benefits and indulge in a delightful shower experience with our Tropical Crush Body Wash.

What makes your body care products different?
We use facial-grade skincare ingredients in all our products including our bodycare range. We lovingly formulate our products according to the Sephora Clean Program and make our products affordable and accessible for all

When Should I use the Tropical Crush Body Wash?
Use this morning or night for a luxurious at-home self-care experience. It's the perfect way to pamper yourself while taking care of your skin. So why settle for an ordinary Body Wash when you can indulge in this creamy, foaming delight?

Where are your products made?
All our products are lovingly made in New Zealand. We are very proud to be part of the New Zealand Fernmark program which is a formal government recognition of our product's connection to New Zealand and clearly communicates our country of origin to our customers around the world.
Where can I purchase this product?
You can purchase all our products right here on our website.
NEW ZEALAND
All our products are stocked in your local Countdown, New World & Pak n Save.
AUSTRALIA
All our products are exclusively stocked in your local Woolworths store.

Does the product contain fragrance?
Yes, it contains a delightful tropical fruit scent. Our formulations contain less than 0.6% fragrance.

Can I recycle it?
Yes absolutely, you can recycle our packaging

Is this vegan friendly & cruelty free?
Absolutely! We love our furry friends and will NEVER test our products on animals. Our products are also PETA certified

Tropical Body Wash
Inlove with the smoothe feeling & yummy smell it leaves my skin. Not too harsh.
My skin loves these body washes 🥰
Not only do these body washes smell so good but they do wonders for my skin. I love that they aren't just cleaning my body but also provide moisture and hydration to the skin ! Absolutely in love:)
Obsessed
I am loving the new body wash collection. It is by FAR the best-smelling body wash I have ever tried. I couldn't recommend it enough! Leaves you smelling so good for hours after too. It is also great for sensitive skin and leaves my skin feeling SO soft. Absolutely lushhh.
Body Wash Review
I am absolutely obsessed with the newest Frulabeauty Body Wash Collection! They all smell absolutely incredible but this scent is definitely by far my favourite scent out of the three! It's so soft and gentle on the skin and my body is left feeling hydrated, nourished and smelling amazing! If you are looking for a new body wash, I 100% recommend Frulabeauty Body Wash. They are totally worth it 🤍🫧🌸
Skin loving ingredients!!
Adoring this body wash!! it smells absolutely Devine, transporting you on a tropical holiday. I absolutely love the skin loving ingredients it has inside like Niacinamide & shea butter, it leaves my skin feeling so hydrated, nourished, and smelling amazing!!
My favourite scent from the body wash collection!
My abosolute fav scent ever out of the body wash collection!!! The consistency is creamy and it lathers up really nicely, it leaves your skin feeling soft and nourished. The scent is unreal, it smells like a tropical Holliday in Hawaii, it's tropical, it's fruity, it's fresh, it doesn't have that artificial smell to it either. So luxurious it's like something you'd buy from Mecca 😍
The Best
Loving this body wash! Smells so yummy and doesn't irritate my sensitive skin at all. Leaves my skin feeling clean & hydrated, plus the bottle looks super cute in my bathroom
Smells amazing!
I absolutely love this body wash. It's easy to foam up, and you only need a small amount. It also smells delicious and leaves your skin smelling like it even after your shower. My skin is so soft now!
THOUGHTFUL SKINCARE
Clean Beauty
No nasty ingredients

Our products are Vegan Friendly, SLS, SLES, Silicone & Paraben Free.

Made From Naturally
Derived Ingredients

All our products are free from harmful ingredients and comply with the Clean at Sephora program

Cruelty Free
We Love Animals

We make beauty products with love for all. We are PETA certified

Made In
New Zealand

Proudly made in NZ & Fernmark registered