Tropical Crush Body Scrub
Moisturise & Nourish
200ml
Regular price
Sale price
$16.99 NZD
Unit price
per
Sale
Sold out
free shipping over $100.00
Introducing Tropical Crush Body Scrub - A luxurious niacinamide body scrub, infused with the tantalizing scent of tropical fruit and enriched with the goodness of JoJoba Oil & Niacinamide. Get ready to experience the ultimate in smooth, radiant skin with our luxurious niacinamide body scrub.
How It Works:
Our Body Scrub is infused with key ingredients Niacinamide & Jojoba Oil to exfoliate & soften the skin. Our carefully selected ingredients work together to remove dead skin cells, leaving your skin feeling smooth and refreshed. This vitamin-rich formula is packed with niacinamide, which helps to brighten and even out your skin tone, while gently exfoliating to reveal smoother, softer skin.
Perfect For:
Suitable for all Skin Types

Individuals seeking to exfoliate and soften their skin.

T

hose who desire smoother and more radiant skin.
Those who want to remove dead skin cells and reveal a smoother complexion.
Benefits:
Exfoliates and removes dead skin cells

Softens and smoothens the skin

Brightens and evens out skin tone

Nourishes and moisturises the skin

Refreshing tropical fruit scent
Made Without:
Parabens, SLS, SLES & silicones
Key Ingredients:
Niacinimide - Improves skin tone, reduces inflammation, minimizes pores, balances oil production, enhances the skin barrier

Jojoba Oil - Moisturizes & nourishes the skin, soften and smooth dry skin, provides a protective barrier to prevent moisture loss.

Grapefruit seed extract - Natural antioxidant properties, contain antibacterial properties which promote a healthier skin environment. Supports overall skin cleanliness.
The Experience:
Your skin will feel: Soft, Smooth & Hydrated

Your skin will look: Radiant & Refreshed

The Scent: Tropical Fruit Bowl

The Texture: Sugar texturised but gentle
The Fragrance:
Inspired by tropical landscapes where the sun kisses the vibrant fruits and fragrant flowers. This warm scent with notes of tropical fruit, jasmine, white orchid & vanilla will energize your spirit and transport you to a world of pure bliss and relaxation.
Fragrance Family: Fruity Floral
Emerging: Jasmine, Tropical Fruit
Developing: Cedarwood & White Orchid
Lingering: Vanilla
Pair With: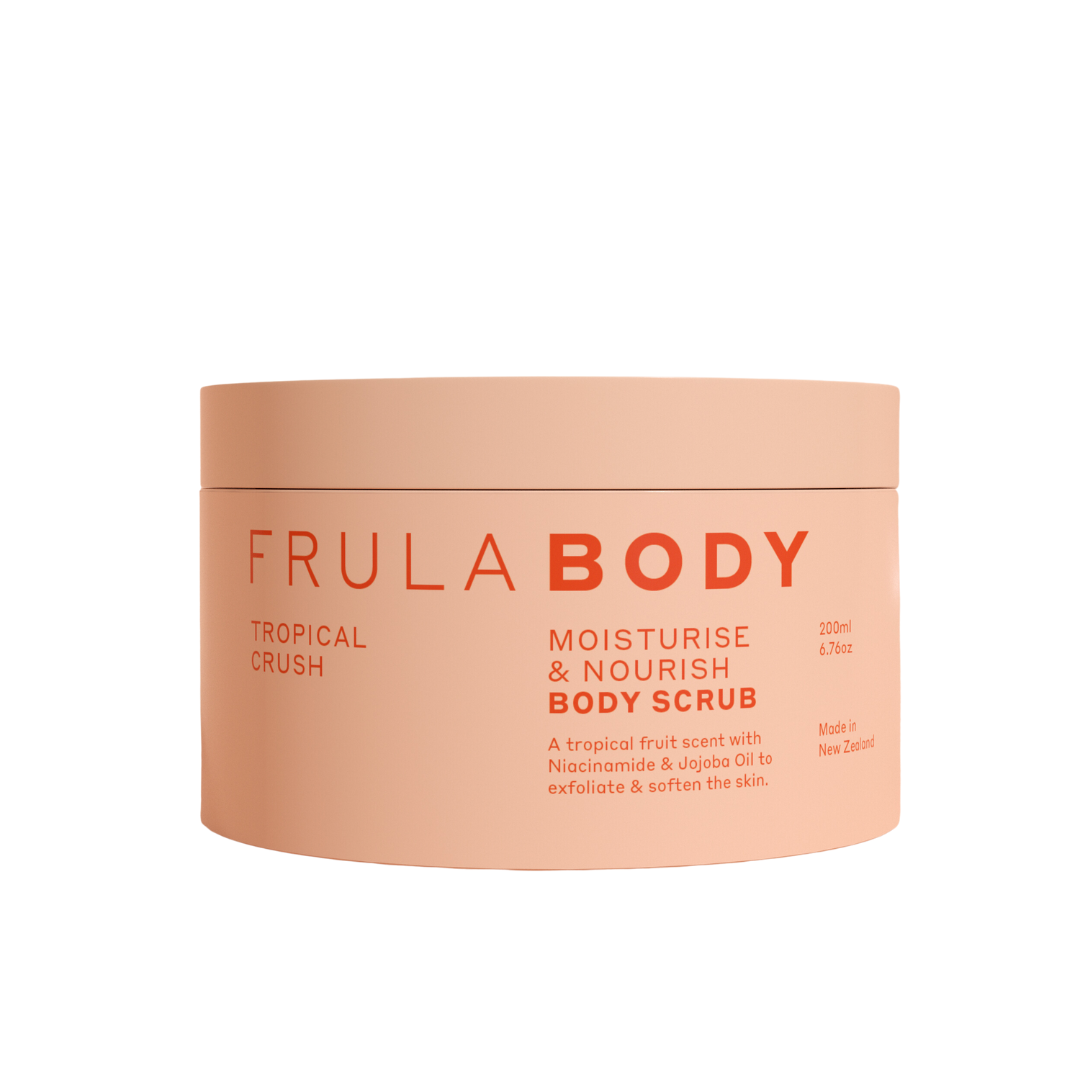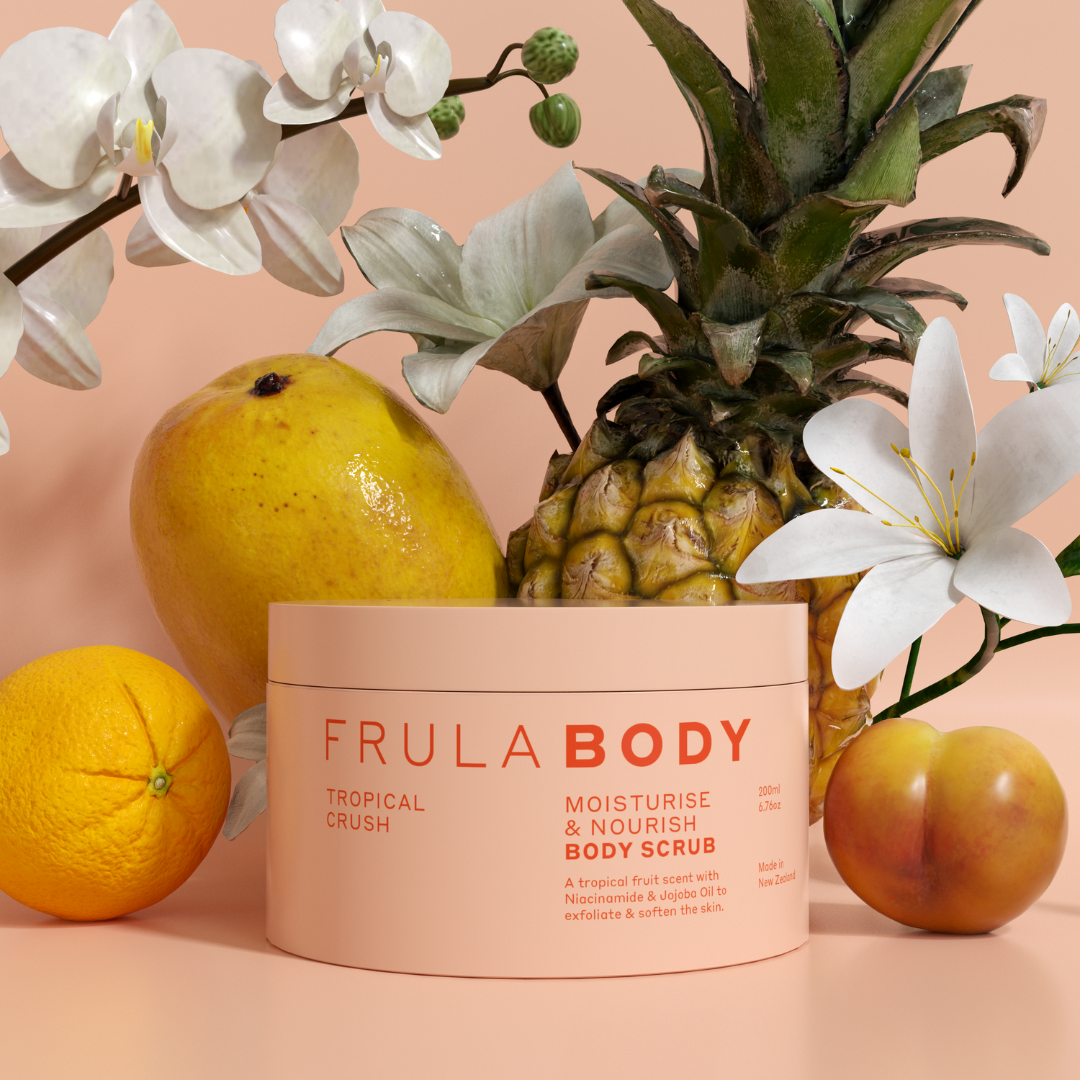 YOU WILL LOVE IT
Vegan
Friendly
For All Skin
Types & Tones
Cruelty
Free
SLS,SLES
& Paraben Free
Made in New
Zealand
ABOUT THE PRODUCT

Tropical Crush Body Scrub is a luxurious niacinamide sugar body scrub that combines the tantalizing scent of tropical fruit with the nourishing benefits of jojoba oil and niacinamide. This body scrub is designed to provide you with smooth, radiant skin and a refreshing exfoliation experience.

The key ingredients in this body scrub are niacinamide and jojoba oil. Niacinamide, a form of vitamin B3 helps to brighten and even out your skin tone while gently exfoliating to remove dead skin cells. Jojoba oil is known for its moisturizing properties, leaving your skin feeling soft and supple.

The vitamin-rich formula of the body scrub is packed with niacinamide, ensuring that your skin receives its beneficial effects during exfoliation. It helps to improve the overall appearance of your skin, promoting a brighter and more even complexion.

With Tropical Crush Body Scrub, you can indulge in a luxurious exfoliation experience that not only leaves your skin feeling smooth and refreshed but also nourished and revitalized. Say goodbye to dull, rough skin and hello to the radiance and softness of smooth, healthy-looking skin.

Our bodycare products are:


Sephora Clean Formulated
Includes facial-grade skincare ingredients
Enhances the power of nature for transformative results
Does not contain any nasties
Naturally derived
Fruit & Plant formulated
PETA certified
Vegan Friendly & Cruelty free
SLS, SLES, silicone & paraben free
INGREDIENTS

Key Ingredients:
Niacinimide
Improves skin tone, reduces inflammation, minimizes pores, balances oil production, enhances the skin barrier.
Jojoba Oil
Provides hydration, soothing effects, gentle exfoliation, and antioxidant protection.
Sugar
Glycerin, Sucrose, Stearic Acid, Cocos Nucifera (Coconut) Oil, Sodium Cocoyl Isethionate, Sodium Benzoate, Niacinamide (Vitamin B3), Simmondsia Chinensis (Jojoba) Seed Oil, Citrus Grandis (Grapefruit) Seed Extract, Aloe Barbadensis Leaf Extract, Parfum, Limonene.
HOW TO USE

Regular exfoliation is essential for maintaining healthy, glowing skin, and our Tropical Crush Bodyscrub is the perfect solution to achieve this.

To use, wet your skin, apply a small amount of the scrub, and gently massage it in circular motions. Rinse off thoroughly and follow with moisturiser. Use the scrub 2-3 times per week or as desired for best results.
PRO TIP: Use after bodywash
THE EXPERIENCE

Your skin will feel: Soft, Smooth & Hydrated
Your skin will look: Radiant & Refreshed
The Scent: Tropical Fruit Bowl
The Texture: Sugar texturised but gentle

FAQs

Why should I use this Tropical Crush Body Scrub?
Exfoliation: The scrub contains gentle exfoliating agents that can help remove dead skin cells, leaving the skin feeling smoother and softer. This can also help to unclog pores and prevent ingrown hairs.

Niacinamide benefits: Niacinamide can help brighten and even out the skin tone, reducing the appearance of hyperpigmentation and dark spots. It can also help improve the skin's texture.

Tropical fruit scent: The tropical fruit scent provides a pleasant fragrance that can help uplift your mood and leave you feeling refreshed and energized.

Vitamin-rich formula:The scrub is enriched with vitamins and minerals that can help nourish and protect the skin, leaving it healthy-looking and radiant.

Overall, using this body scrub can provide a luxurious and nourishing experience for your skin, leaving it feeling smooth, soft, and refreshed with a pleasant tropical fruit scent.

What makes your bodycare products different?
We use facial-grade skincare ingredients in all our products including our bodycare range. We lovingly formulate our products according to the Sephora Clean Program and make our products affordable and accessible for all

When Should I use the Tropical Crush Body Scrub?
Use this morning or night for a luxurious at-home self-care experience. It's the perfect way to pamper yourself while taking care of your skin. So why settle for an ordinary body wash when you can indulge in this creamy, foaming delight?

Where are your products made?
All our products are lovingly made in New Zealand. We are very proud to be part of the New Zealand Fernmark program which is a formal government recognition of our product's connection to New Zealand and clearly communicates our country of origin to our customers around the world.

Where can I purchase this product?
You can purchase all our products right here on our website.
NEW ZEALAND
All our products are stocked in your local Countdown, New World & Pak n Save.
AUSTRALIA
All our products are exclusively stocked in your local Woolworths store.

Does the product contain fragrance?
Yes, it contains a delightful tropical fruit scent. Our formulations contain less than 0.6% fragrance.

Can I recycle it?
Yes absolutely, you can recycle our packaging

Is this vegan friendly & cruelty free?
Absolutely! We love our furry friends and will NEVER test our products on animals. Our products are also PETA certified

Lush scrub
Love the scrub, beautiful smell and holds together well in the shower.
My legs have never been smoother
Everyone needs a great body scrub just like this one! I am obsessed with this new product and how it makes my skin feel ! I literally have the smoothest legs ever 🥰
So good for my flaky skin 😍
I have eczema on my hands and this is so nice and gentle to remove the dead skin (TMI) haha, it also smells so good 😍
LOVEE
This scrub is to die for! Not only does it smell amazing, it is perfect for sensitive skin and leaves my skin feeling so smooth. A small amount of product also goes a long way. Will be repurchasing this for sure!
Body Scrub Review
ahhh this smells incredible!! I'm absolutely obsessed with the newest Tropical Body Scrub, not only does it smell amazing but it's super gentle on my skin, it removes my fake tan super easily which is incredible and leaves my skin feeling soft, hydrated, exfoliated and nourished. I would recommend this product to anyone! love love loveee 🤍🫧🌸
Silky smooth skin!!
I'm obsessed with this scrub! It smells absolutely irresistible & exfoliates my skin without being too rough, leaving it feeling silky smooth & super hydrated!! Absolutely love this product!!
Smells incredible!
This scrub so good you want to eat it!!! It is also a nice consistency to use all over the body and leaves a fresh tropical scent that lasts all day.
Best scent!
This body scrub paired with the tropical crush body wash is the best duo! Smell is amazing, the scrub consistently is really nice, it's super exfoliating and leaves your skin feeling so soft! Love love love 😍
Best scrub ever!
First Impression: absolutely loved the smell!! I loved how it made my skin feeling super soft and glowy. A lot really goes a long way so you know the product will last you for a long time!
Obsessed
This scrub is so nice! Smells really good and has helped big time with my keratosis pilaris, i have pretty sensitive skin & this exfoliates beautifully without causing irritation. i use it to remove any old fake tan and it gets the job done super quickly
THOUGHTFUL SKINCARE
Clean Beauty
No nasty ingredients

Our products are Vegan Friendly, SLS, SLES, Silicone & Paraben Free.

Made From Naturally
Derived Ingredients

All our products are free from harmful ingredients and comply with the Clean at Sephora program

Cruelty Free
We Love Animals

We make beauty products with love for all. We are PETA certified

Made In
New Zealand

Proudly made in NZ & Fernmark registered